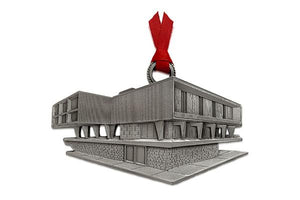 2022 War Memorial Center Ornament
The annual Milwaukee Holiday Lights Festival ornament is a one-of-a-kind keepsake. Great gifts for family, friends, co-workers and business associates, each year features an iconic downtown landmark cast in pewter by local artist Andrew Schumann.
The 22nd edition features the War Memorial Center, which celebrates its 65th anniversary. Designed by world renowned architect Eero Saarinen, the Center opened on Veterans Day 1957 to Honor the Dead and Serve the Living. This beautiful memento captures not only the mosaic and shape of the building, but also the architecturally renowned pedestal it is built upon.
Please note, ornaments ordered after Monday, Dec. 19 will be processed on Tuesday, Jan. 3. If you need to purchase an ornament during this time, please visit our retail locations at Kloiber Jewelers or Historic Milwaukee. Both locations carry our entire ornament series. Please call ahead for holiday hours.
THE UNITED STATES POSTAL SERVICE RECOMMENDS FIRST-CLASS PACKAGES BE SHIPPED BEFORE SATURDAY, DEC. 17 FOR EXPECTED DELIVERY BEFORE SUNDAY, DEC. 25. WE ARE UNABLE TO GUARANTEE CHRISTMAS ARRIVAL FOR PACKAGES SHIPPED AFTER THIS DATE.